Staff
The dedicated staff members at the Johnston & Stanimer Funeral Home have many years of experience and are here to provide support, compassion, and information to help you through your journey of grief and the celebration of your loved one's life.
Johnston & Stanimer Funeral Home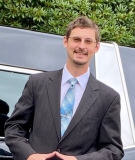 Edward "Edd" Stanimer
Owner / Funeral Director
Edward "Edd" Stanimer grew up in Clayville, NY and graduated from Sauquoit Valley Central School in 2008. He furthered his education by attending Hudson Valley Community College and graduated with high honors in 2011, obtaining a degree in Mortuary Science. He served his internship with the Dimbleby, Friedel, Williams & Edmunds Funeral Homes in the Utica, NY area and later worked for the Courtney Funeral Home in Walton, NY. In September 2015, he formed E.S. Professional Services, LLC; a business designed to help other funeral homes with the logistics of the professions daily tasks. Edd still takes great honor in assisting his colleagues if the need arises. In December 2019, he purchased the Johnston Funeral Home. He considers himself as a compassionate person who holds himself to the highest level of integrity for the profession.
He is a member of the New York State Funeral Directors Association, acting as the Region 3 Director, a Board Member of the Leatherstocking Funeral Directors Association and is on the Board of Directors for the Tri-County Funeral Directors Association.
In his spare time he enjoys spending it with his wife, Joanna; son, Waylon and daughter, Mia. He also likes "tinkering" on anything in his garage and more recently, shooting skeet and trap at the local sportsman clubs.
Edd feels that he is very fortunate to have been given the opportunity to serve Morris and its surrounding areas with the same high level of service that the funeral home has always been known for.