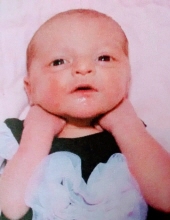 Obituary for Harley Jeanne Dibble
Harley J. Dibble unexpectedly passed away on August 26th, 2019. Harley was 2 days shy of 3 months old.

Harley is predeceased by her great grandfathers; George L Barnes Jr and Harvey D Backus Sr and her grandfather; William W Gray.

Harley is survived by her parents; Seth & Jonel Dibble and her siblings; Natalie, Peyton, Hunter, Serinity, Coltin, and Seth Jr. She is also survived by her great grandparents; Beverly J Backus, Joan Barnes, John Sr & Florence Strong, grandparents; Ticia Barnes &Rob, John Strong Jr, and Tonya Gray & Brad. She also has many loving aunts, uncle's, cousins, and friends.

There will be a celebration of Harley's life on Sept 6th, 2019 at Keith Clark Park pavilion from 11:30am till dusk for family and friends. Please contact Tonya @ 607-427-7205 if you would like to attend or for donations/ flowers.