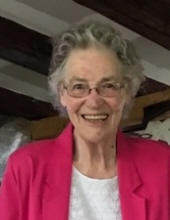 Obituary for Henrietta deVos
West Laurens

Henrietta deVos, 91, formerly of West Laurens passed away at the Waterville Residential Care Center in Waterville, NY on Tuesday, November 5, 2019. She was born on March 29, 1928 in Grou, Netherlands; a daughter of the late Nicholas and Alice (Zetsma) Poeze. Henrietta married Harmen deVos on March 11, 1950 in Littlefalls, New Jersey; a blessed marriage of over 59 years.

Henrietta was proud to become a professional seamstress after earning her degree from Mode- Acadmie Ida De Leeuw Van Rees in the Netherlands in 1947. Upon her move to the United States she tackled the role as a farmwife and business partner with her husband Harmen at their farm "Daughters and deVos". Henrietta enjoyed all of the needle art crafts, cooking, canning, driving her children around, and square dancing. She was an avid reader of all types of books, loved singing, and was a regular visitor to the Pearl Street Elementary School in Sidney where she would tell the children about Christmas in the Netherlands. Henrietta was a member of the West Laurens Homemakers Association, Laurens Presbyterian Women's Group, the Tri-County Twirlers and was a 4-H Club Leader in Unadilla.

She particularly enjoyed entertaining her nine grandchildren and allowing them ice cream and sprinkles for breakfast. Whether exploring NYC as a newly arrived immigrant or enjoying a hot air balloon ride for her 85th birthday, Henrietta was fearless. She could also be described as determined; studying hard to figure something out or advocating passionately for the underdog.

Henrietta is survived by her loving daughters, Alice (Tim) Klump, Mary (Gary) Shaheen, Henny deVos, Anne deVos (Tim Beauregard), Tina (Sean) Abbott; grandchildren, Shelly, Tim and Nick Klump, Danita Shaheen and Caitlin (Paul) Morgan, Lorne Beauregard, Brianna Young, Mary and Brad Kogut, and Nick Abbott; great-grandson Hudson Morgan; sister Emma (Ken) Bird and sister-in-laws Laima Devries and Geertje deVos.

Family and friends are invited to calling hours at the Johnston Funeral Home, 60 Broad Street, Morris on Saturday, November 9, 2019 from 1:00 PM to 3:00 PM. Her funeral service will follow at 3:00 PM with Debbie McKinley from the East Craftsbury Presbyterian Church, officiating.

Donations in her memory may be made to an Alzheimer's or Breast Cancer research organization of your choice.

To leave an online condolence to her family please visit www.johnstonfh.com. Her care has been entrusted to the Johnston Funeral Home in Morris.
Previous Events
Visitation
Johnston & Stanimer Funeral Home
60 Broad Street
PO Box 750
Morris, NY 13808
Service
Johnston & Stanimer Funeral Home
60 Broad Street
PO Box 750
Morris, NY 13808