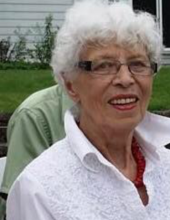 Obituary for Janice E Peckham
Janice Ernestine Peckham passed away on August 1, 2019, in Norwich. Janice was born on March 20, 1936, the youngest child in the large farming family of Charles Berton and Clara Keach Matteson of Rockdale. The farm was her home until her marriage to Bruce Peckham of East Guilford, with whom she enjoyed automobile racing and multiple community activities.

Jan spent most of her working career at Scintilla/Bendix/Amphenol, also working many nights and weekends at The Old Mill in Rockwells Mills. For some years she lived in Lewiston, New York, before returning to her beloved nature retreat in the woods off Route 8. There she welcomed friends, family, and a host of wildlife. Feeding her birds, tending her pets, and watching the deer and other wild things from her place by the window were among her greatest joys.

Jan leaves behind two sisters, Irene Johnson and Arlyn Wade, both of Norwich. In addition, she is survived by numerous nieces, nephews, and close friends. She was pre-deceased by brothers Keith, Doug, Dever, and Ellsworth Matteson and their wives, dear sister Ruth, and brothers-in-law Bob Hoyt, Bob Johnson, and Pete Palmer.

Jan was a hard-working and generous soul and will be deeply missed by her many loved ones who enjoyed her strength of spirit and deep devotion. Very much in character, Jan requested simplicity in her passing and the family will honor her memory in keeping with her wishes at a later date.

The family extends deep appreciation to Jan's many friends at Norwich Rehabilitation and Nursing Center and others who have provided care and assistance through the years, and to Johnston Funeral Home of Morris for final arrangements.