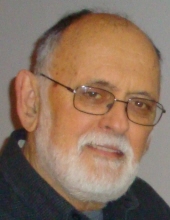 Obituary for Ron Lee Valentine
Ron Valentine, age 69, was called to heaven on January 18, 2019, after a brief illness with a rare cancer. In February 1949, Ron Valentine and his twin brother Don Valentine were born to Durward and Leah Valentine at Oneonta's Fox Hospital. Then the adventure began.

He was a 1967 graduate of Morris Central School and a 1969 graduate of Jefferson Community College in Watertown with a degree in accounting. In August 1969 Ron married Carol Hill (daughter of Bernard and Amelia Hill) at the Lowville United Methodist Church in Lowville, New York.

Ron had several employers over the next few years including Bendix Corp., First National Bank of Morris, and Wilber National Bank. His last employer was NYSEG, which he retired from in 2004 at age 55. From that time on, he enjoyed working on old cars and hot rods (especially his 1932 Fords) with his brother Don. Other hobbies included building model cars, fishing trips, and hunting trips to Beaver River in the Adirondacks.

Ron is survived by his best friend and wife of 49 years, Carol Valentine, his daughter Kimberly (Dan Bush) of Poughkeepsie, his son Kevin (Kiowa Garcia) of Park Ridge, New Jersey, and two precious granddaughters Kasey and Kathleen Valentine of Park Ridge, New Jersey. He is also survived by his brothers Gene (Ruth) Valentine of Morris, Bill (Joan) Valentine of Tully, Barry (Mary) Valentine of Morris, Don (Jean) Valentine of Morris, Paul (Lori) Valentine of Morris, brother-in-law Douglas (Martha) Hill of Cicero, many nieces, nephews and cousins, and four special lifelong friends - Nick Poling of Arizona, Frank and Laura Whitehead of Mannsville, and Sherman Bush of Arizona. He was predeceased by his parents, his wife's parents, and his brother, D. Rene Valentine of Watertown.

At Ron's request, there will be no calling hours or funeral service. Interment at the Hillington Cemetery in Morris will be at a later date. Online condolences may be made to the family at www.johnstonfh.com. Arrangements are being handled by the Johnston Funeral Home in Morris. The family requests any donations in Ron's memory be made to Catskill Area Hospice and Palliative Care 297 River St. Service Rd. Suite #1 Oneonta, NY 13820.
Memorial Contribution
Catskill Area Hospice and Palliative Care
297 River St. Service Rd.
Oneonta, NY 13820