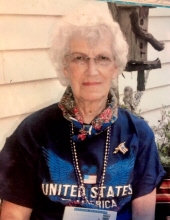 Obituary for Ruth M Hoyt
Ruth M. Hoyt of Gilbertsville died after a brief illness in the early minutes of New Year's Day, 2019. She was 89. Ruth Elizabeth Matteson was born on December 19, 1929, to Charles Berton and Clara Keach Matteson of Rockdale. She was raised on the farm as part of a large farming family and was well versed in the workings of such an operation, contributing considerable personal energy to the effort. She enjoyed sharing stories of her family's life on the farm.

Ruth graduated from Mt. Upton Central School and soon married Robert Hoyt, and they began life together in Oneonta. Not long after, they moved to their beloved Maple Grove, where they raised their kids, helped raise their nephews, and influenced a generation of neighboring children as well. Their house was often full of rowdy youngsters who all felt welcome at the Hoyt home. In 2005, she and her sister Arlyn reluctantly left the country life and made the move to the village of Gilbertsville, where she enjoyed keeping track of the foot traffic and other activity on the corner of Spring Street and Vine.

Ruth's fearsome work ethic eventually found its most vigorous outlet at Scintilla/Bendix/Amphenol for close to forty years. In the late 1970s, she and Bob took over the Little Grocery in Gilbertsville, where she spent her hours outside of her regular job ordering, stocking, and cooking, expertly managing their successful business. After retirement, she enjoyed serving as an attendant at the information booth on I-88 in Wells Bridge, a position previously held by her husband. Throughout her life, Ruth's main interest was her family, but she also loved horses, books, and the seashore. She planned yearly family vacations and made sure that her young children had every opportunity to become citizens of the world, while also being grounded in strong faith and family values. Her strength, wit, curiosity, hospitality, intelligence, and most of all, her generosity, often made a lasting impression on others.

Ruth was a member of long standing of The First Presbyterian Church of Gilbertsville, teaching Sunday school and tending the nursery for many years and supporting its women's and youth groups. She was also a member of the American Legion Auxiliary.

Ruth is survived by her sisters, Irene Johnson, Arlyn Wade, and Janice Peckham; children, Kent Hoyt of Maple Grove, Helen (Jim) Groff of Franklin, Jan (Bill Musson) Costello of Gilbertsville, and daughter-in-law Sue Hoyt of Mt. Vision; grandchildren, Sandy (Andy) Meyers and children Andrew, Kyle, and Nicole; Kent Hoyt Jr. (Amanda) and son Dakoda; Laura Hoyt (John) and daughter Mackenzie Graves; Kelly Prentice (Anthony); Heather (Jason) Thomson and children Bronson, Cameron, and Annika; Dillon (Amanda) Groff and children Carter, Tyler, and Ryan; Casey (Laura) Costello and son Ash; Whitney Costello; dearly-loved nephews George (Linda) Wade and children Jennifer Camas, Erin (Trent) Joslin and son Connor, and Vanessa Wade; Chuck Wade (Lynn Pascale) and son Clayton; niece Shirley Paquin (Ron), and daughter Diane (Steve) Platts; and numerous other nieces, nephews, and extended family.

Ruth was predeceased by her husband Bob, her grandson Tyler Hoyt Costello, her brothers and their wives, Keith (Frances) Matteson, Douglas (Jeannette) Matteson, Ellsworth (Eleanor) Matteson, and Dever (Ruth) Matteson; and her brother-in-law Jack (Eva) Hoyt.
A family memorial service with the sisters in attendance will take place Saturday, Jan. 5, at 10 AM at Norwich Rehabilitation and Nursing Center, 88 Calvary Dr., Norwich. In addition, a memorial service will be held at the First Presbyterian Church of Gilbertsville at 2 PM the same day (Jan. 5), with reception to follow. The Reverend Mark Piedmonte will officiate both. The family will be in attendance from 1 to 2 PM for visitation. All are welcome at either service.

Memorial donations may be made to The First Presbyterian Church, PO Box 314, Gilbertsville, NY 13776.

Johnston Funeral Home of Morris has been entrusted with arrangements.
Previous Events
Service
Norwich Rehabilitation & Nursing Center
88 Calvary Dr
Norwich, NY 13815
Visitation
First Presbyterian Church of Gilbertsville
9 Marion Dr.
PO Box 314
Gilbertsville, NY 13776
Service
First Presbyterian Church of Gilbertsville
9 Marion Dr.
PO Box 314
Gilbertsville, NY 13776